2005年アメリカ作品
アカデミー賞最優秀作品賞、最優秀オリジナル脚本賞
監督、脚本、製作:ポール・ハギス
出演者:サンドラ・ブロック 、ドン・チードル 、マット・ディロン 、ジェニファー・エスポジート 、ウィリアム・フィットナー 、ブレンダン・フレイザー 、テレンス・ハワード
アメリカ、L.A.に住む 人々の葛藤、衝突を、様々なストーリーを織り交ぜながら、多人種が共存する街の複雑さを浮き彫りにした衝撃的な一作。
This academy award winning movie set in contemporary L.A., depicts people's deep feelings of anger, hatred, joy and happiness through conflicts observed in daily lives. In L.A., home to many people of different races and social status, people's fears, racism and false assumptions prevent them from seeing the actual person in others, beyond their façades. The characters' inability to connect with others makes them resort to impulsive actions, which consequently bring about unexpected turns in their lives. However, a series of fateful coincidences interlocking different characters' lives brings them closer to the realization that others share the same fears and hopes.
The movie starts out with a black detective on his way to investigate the murder of a black boy whose body was abandoned at the side of a road. Speaking of the people of L.A., he murmurs, "I think we miss that touch so much, that we crash into each other, just so we can feel something," which clearly sets the tone of the movie and makes us wonder where "crashes" take us.
The next scene sees two young black men complaining about the ill-treatment they just had at a restaurant because of the color of their skin. On the spur of the moment, they pull out guns and carjack a wealthy white couple they happen to pass by.
The wife of the couple (Sandra Bullock) accuses her husband of timidity and demands their door lock be changed for fear of her Latino locksmith breaking into her house later.
During a routine traffic-violation stop, a racist cop (Matt Dillon) takes crude pleasure in humiliating a wealthy black couple on their way home, which in turn infringes on the couple's relationship.
An Iranian shopkeeper, mistaken for an Arab, faces unfair treatment and seeks revenge on the same Latino locksmith, believing he is the one who has broken into his shop.
All these characters, believing they are the victims of society, direct their anger and frustration towards people different from them. Anything can happen in this movie and the audience is hooked to the screen with intense fascination as each story unfolds.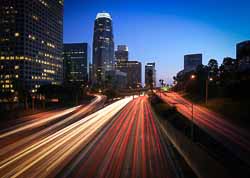 Throughout the movie, people's fears seem to be embodied in cars. Once inside cars, they are isolated from the world outside just like the characters living in their own bigoted world, where people's preconceptions prevent them from seeing others for what they are. Through a series of coincidences or chance encounters, the characters develop and become better people. Despite the coldness and cruelty that racism entails, the movie presents a subtle message of hope, exemplified by the characters' personal development, which allows them to share compassion towards fellow human beings.
This movie does not have spectacular car chases nor breathtaking computer graphics, but the emotions portrayed there are intense enough to make us think hard and let our thoughts linger in our mind. It is definitely a must-see movie, to touch your heart and be long remembered.